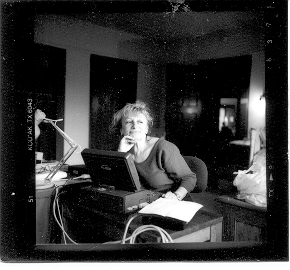 Corinna Hasofferett schrijft in het Hebreeuws literaire fictie en non-fictie en ontvangt een stipendium van het Yaddo en Ledig Genootschap.
Zij ontving eerder prijzen, toelagen en onderscheidingen van: de Fine Arts & Literature Grants (1998, 1999, 2000) van de Tel-Aviv Foundation; de Arichaprijs (voor Revelation); de publicatieprijs van de Hebreeuwse Schrijversbond; een subsidie van het Institute for Translations of Hebrew Literature Translation Grants
de New Israel Fund Wyner prijs;
de Institute for a Better Israel Award;
de Israel Foreign Ministery travel grant naar Egypte;
de BCLA (British Comparative Literature Association) Publication Honor; (for Revelation);
de President of Israel Amos Grant
en recentelijk van het Ministry of Culture de Creativity Grant.
In 1975 bracht Corinna Hasofferett gedurende een half jaar Palestijnse en Joods-Israelische kunstenaars, componisten en schrijvers bijeen voor tweewekelijkse ontmoetingen en activiteiten in Galilee.
In 1984 stichtte zij HILAI, het Israelische Centrum voor de Scheppende Kunsten. Zij leidde deze not-for-profit stichting gedurende elf jaar. In die periode runde de stichting twee internationale kunstenaars- en schrijverskolonies in Galilee en de Negev en werden er meer dan vijfhonderd vredesontmoetingen georganiseerd, alsmede werk- en studiebijeenkomsten in kunst, literatuur en muziek.
Haar werk is in vertaling gepubliceerd in literaire tijdschriften en magazines, zoals Partisan Review, International Quartely. Pen Israel Anthology, Jacket, The Richmond Review, Masthead, Patchword e.a.
In september 2002 las zij :Noffey Haneffesh" (ONCE SHE WAS A CHILD), een boek met gesprekken tussen internationale vrouwelijke auteurs bij de Britisch Association of Slavic and Eastern European Studies, Mansfield College, Oxford, U.K.